Showboat's 'Show Boat' is truly a masterpiece
Written by: David Burke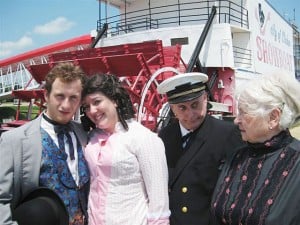 With a cadre of fantastic performances, the Clinton Area Showboat Theatre's production of "Show Boat" may be the best work done there yet with director Patrick Stinson at the helm.
It's first-rate work, and it's difficult to pick who might be better in their roles: Michael Oberfield, as carefree Cap'n Andy; Hilary Mullany as his one-liner-zinging wife, Parthy; Nicole Horton, as their daughter, wannabe performer Magnolia; Nicholas Lee, as her suspicious beau, Gaylord Ravenal; Bradford Rolen, with an impeccable version of "Ol' Man River," as Joe; Amber Gray, allowably playing up stereotypes but still wonderful as Queenie; or Jennifer Noble (with a warm "Can't Help Lovin' Dat Man"), Mike Detmer and Emily Eisenman as entertainers on the Cotton Blossom.
I was worried initially by seeing as many as 47 people on an admittedly small Showboat stage (not having seen the show before, I was afraid that's what the rest of the night might entail) but the shining moments in the show came from the smaller, more intimate numbers.
A two-story boat is in the back of the stage, and a rotating set piece with a door in the middle helps the cast through a multitude of locales. A paddlewheel sits in front of one of the Showboat balconies, and some action takes place in front of the other balcony, expanding the reach of the show.
"Show Boat" wraps everything – rollicking humor, heavy drama, fine dancing and the excellent Jerome Kern-Oscar Hammerstein score (directed by Thea Engelson, part of a seven-piece pit) – into one incredible package.